5 Reasons For Your Child to See the Orthodontist Early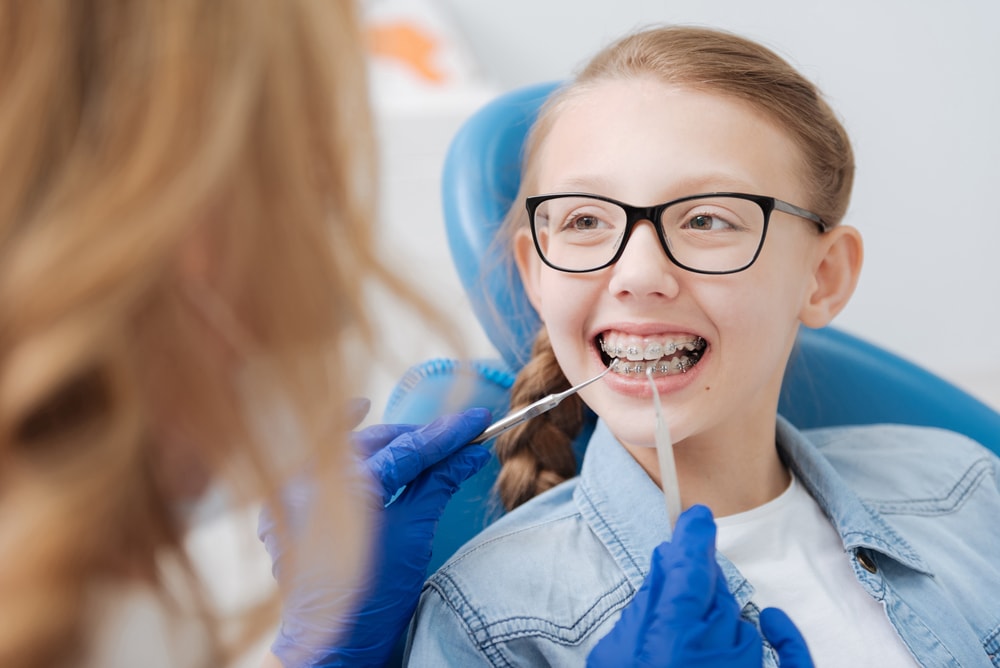 The American Association of Orthodontics recommends that parents have their children see an orthodontist for the first time at around age 7. Although this age is too soon to begin many treatments, this first visit occurs at a good point in your child's development, and allows your family several benefits.
1. Discuss Concerns
As a parent, you know your child better than anyone else. Over the years, you may have noticed things about your child's teeth or mouth that you can discuss with your dentist, who can then refer you to an orthodontist, particularly if related to:
Late or early loss of baby teeth
Difficulty chewing or biting
Breathing through the mouth
Thumb Sucking
Difficulty speaking
Facial imbalance
Grinding or clenching teeth
Your orthodontist can tell you if your child's problem is serious and what can be done to improve it.
2. Identify Potential Problems
At around age 7, your child's mouth already displays many of the characteristics that it will retain for his or her life. Many potential problems can be identified at this point, and plans can be made to deal with issues early on.
Potential problems that will need to be attended to include:
Tooth Loss and Eruption – teeth that are lost too soon or too late, or have difficulty coming through
Crowding and Spacing – too much or too little space between teeth and in the mouth
Alignment – crooked teeth that are susceptible to uneven wear or damage in case of trauma
Protrusive Front Teeth – front teeth that stick out too far, also known as an overbite
Underbites – lower teeth that project beyond the upper, subject to bite shifting and damage to the front teeth
Posterior Crossbites – crowding that leads to the jaw shifting laterally, leaving little room for anterior eruption
Anterior Openbites and Deepbites – vertical problems with the bite when it is either too deep or has insufficient overlap
3. Interceptive Treatment
For many of the problems above, small fixes can be applied while your child is still young to prevent the issue from becoming worse. Sometimes this means applying minor treatments that do not impede growth. Other times it involves teaching your child habit changes that will prevent the problem from worsening. Interceptive treatment helps to deliver final results faster and makes future treatment more effective.
Acknowledging potential issues early on while planning to correct them can help boost self-confidence during a time when your child's self-image is still developing. Their teeth are only one part of them, not the whole picture.
4. Parental Planning
If your child will need to have orthodontic work done in the future, the sooner you know about it, the better you can plan. Parents can get insurance and financing information early on, and know their payment options as soon as possible. Both parent and children can spend time researching treatment options to decide which type of braces will work best for them, and to know exactly what is out there.
Families can also schedule big events or other family needs around the treatment requirements to help make it a smooth process for everyone.
5. Getting Used To the Idea
Oftentimes kids may be hesitant about receiving orthodontic treatment, and feel uncertain about what wearing braces might mean for them. If given enough lead time, your child can learn for themselves about how nearly all activities can still be done with braces. They can still play many sports and most instruments, and may see very little negative functional impact on their abilities while wearing braces.
It is always better when you can give your child time to understand the importance of braces in the long run, and the negative effects of forgoing treatment. Learn about the limited time that your child will actually be wearing them, and try to remind them of the relative shortness of that time period.
With one trip to see the orthodontist early on, parents can better plan for needed treatment, and children can learn about positive habits to keep the problem from becoming worse. An early assessment allows for early correction, and gives your child an even better smile several years earlier.