Skip to main content
A dental veneer is a thin layer of material, such as porcelain, that is attached to your tooth to correct chips, stains, gaps, and other dental imperfections. Veneers are custom-designed to give you the shape, size, and color of smile you've always wanted. In many ways, porcelain veneers act like regular teeth and are virtually indistinguishable from your natural smile.
At Newport Beach Dental, our renowned dentists, Lance Alder, DDS and Jake Barton, DDS, have crafted and placed countless porcelain veneers throughout his career. Their goal is to make sure your new veneers improve your bite, enhance your smile, and boost your confidence. Read below for more information about our custom-crafted porcelain veneers.
What are the Benefits of Veneers?
When created and placed by a qualified dental professional, veneers can provide a myriad of benefits. For one, they can conceal various aesthetic imperfections, not limited to minor misalignment, cracks, gaps, and discoloration. The use of durable materials like porcelain can create a lifelike shine that matches the shade of the smile. In addition, when patients adhere to proper oral hygiene, porcelain veneers can last for decades.
As with any dental procedure, the results of dental veneers are more likely to be successful in the hands of an experienced dentist. We advise you only to trust a respected dentist like Dr. Alder or Dr. Barton to perform this complex cosmetic procedure. For a sense of their exceptional results and friendly chairside manner, explore these patient reviews.
Porcelain Veneers Candidates
You may be a good candidate for porcelain veneers if you suffer from:
Crowding
Cracks or chips
Gaps
Stains
Worn-down enamel
Moreover, the ideal candidate for porcelain veneers should be in good oral health. Please note that because veneers are primarily considered a cosmetic treatment, those whose concerns are both aesthetic and functional may be better suited for another procedure, such as dental crowns.
Porcelain Veneers Procedure
At your first visit, you will work together with our dentists to discuss your concerns about your smile and your goals. Photographs, impressions, and records will be taken so that your smile design can be perfected while you are out of the office.
After you have approved your new smile design, we will get to work and place temporary veneers on your teeth for one to two weeks. These temporary veneers should look very close to the final result. During this time, your smile design will be fine-tuned down to the smallest detail.
Finally, you'll get to take a look at the new you. Our dental veneers will turn you into a social butterfly. You'll be showing off your new smile before you know it!
Please reach out today for a consultation to see if veneers are the right cosmetic treatment option for you.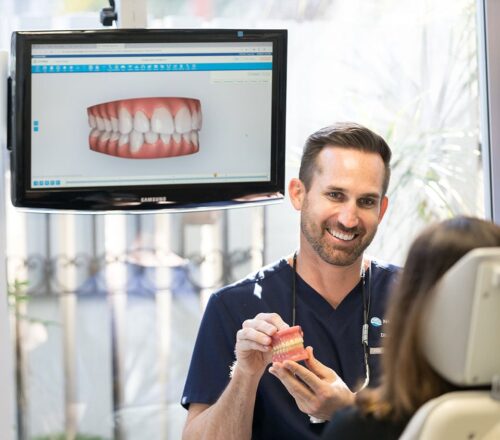 Perfect Smile. Perfect You.
"The process was ridiculously simple. Dr. Alder adjusted a few things that required no anesthetic and then he took an impression and then shown a model of what my teeth would look like. Overall, I'd say it was one of the best dental experiences of my life. I went from barely ever smiling to showing off my teeth – talk about a life changer."
– LUBO S.