6 Dental Myths Debunked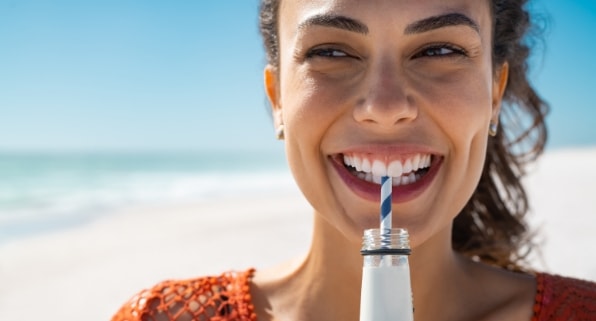 As we all work to keep our teeth pearly white and healthy, it's hard to decipher the facts from fiction on how best to do so.
Here are some of the most common myths about taking care of teeth and the truth behind them.
Myth #1: Brush after every meal.
Truth:
While it is true that you should be brushing after every meal, don't be too quick to grab the toothpaste. It is best to wait 30-60 minutes before cleaning your teeth. The reason? After eating, the acidity in your mouth temporarily softens enamel as saliva breaks down food particles and washes them away. Brushing your teeth when enamel is weakened will scrub away the enamel on your teeth as well, so it is better to wait for a bit.
Myth #2: Wisdom teeth don't have any purpose.
Truth:
Wisdom teeth are those far back molars that often come in between the ages of 17 and 25. These days, they often become impacted, grow in sideways, or painfully crowd the rest of your teeth. It is thought that the evolution of our diet has changed the role of wisdom teeth in recent centuries. Our ancestors ate many coarse foods, which caused tooth abrasion and tooth loss, so these 'extra' molars would help fill in the gaps and allow them to continue eating. But since the improvement of oral care, wisdom teeth have nowhere to go and must frequently be removed to avoid causing problems.
Myth #3: Whitening weakens your teeth.
Truth:
At-home whitening kits use hydrogen peroxide at levels of only 3-10% versus the 15-18% level that a dentist uses. When used as directed and in moderation, it is safe to use on teeth to remove surface stains. And while a slight erosion to enamel can occur if used too often or incorrectly, this process will not weaken the structure of the tooth itself. Because of the potential impact on the enamel and possible tooth sensitivities, always consult with dentist before using whitening products.
Myth #4: Aspirin on a tooth will help a toothache.
Truth:
No, putting aspirin on a tooth does not help with a toothache. In fact, this can burn your gums and harm the soft tissue around your tooth. If you have a toothache:
Carefully clean all teeth and gums in the sore area, checking for stuck food or debris
Rinse your mouth vigorously with warm salt water
Apply a cold compress if your face is swollen
Take Tylenol or Motrin for pain
Call during office hours to make an appointment to see the dentist soon
Myth #5: Baby teeth aren't important as they will fall out anyways.
Truth:
Taking care of primary teeth sets up a pattern of care for permanent teeth, and healthy baby teeth usually means healthy adult teeth. Baby teeth also aid in speech development and hold the place for adult teeth that would otherwise get crowded over.
Myth #6: Hard bristled toothbrushes clean teeth the best.
Truth:
Actually, hard and medium bristled brushes can damage enamel, especially if used too vigorously. Your teeth need to be cleaned gently and carefully, so soft to extra soft bristles are the best tool for cleaning.
What other myths have you heard about tooth care? Sift through the fiction to get to the facts about your teeth and how best to take care of them. But don't take oft-repeated words for truth; ask your dentist if you have any questions about the best ways to care for your teeth.