Top Ten Cosmetic Dental Procedures To Consider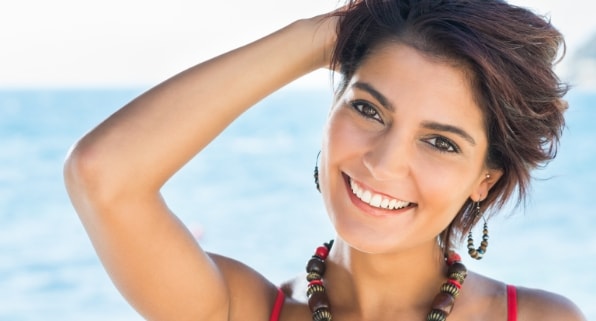 You know that dentists can clean your teeth and fill your cavities, but did you know that cosmetic dentists have a ton more tricks up their white-coated sleeves?
Here are the top ten cosmetic dentistry procedures for beautifying your smile. Consider talking with your dentist about:
1. Teeth Whitening or Bleaching
Take-home custom bleaching trays are one of the most popular cosmetic treatments at Newport Beach Dental. More effective than store-bought kits, these custom trays fit the individual contours of your teeth, and come with tips for keeping your teeth looking whiter for a longer amount of time. It's an affordable and painless way to improve your smile.
2. Porcelain Veneers
Ideal for chipped, severely stained, worn, or crooked teeth, veneers are virtually undetectable, and match your surrounding teeth with customized porcelain material. Also good for filling in gaps in your teeth, this is an ideal treatment for healthy teeth that just need a little assistance.
3. Invisalign® Orthodontics
Straighten your teeth in as little as a year with simple, removable trays that shift your teeth gradually. Practically invisible, Invisalign® is a subtle and accessible way to a healthier, straighter smile that will have minimal impact on your day-to-day life for the duration of the treatment.
4. Dental Implants
For this permanent solution to tooth loss that is both natural looking and feeling, teeth are planted directly into the bones, and won't fall out or come loose. A highly customized process, dental implants can make you forget you have ever lost teeth.
5. Crowns
A tooth shaped "cap" is placed over a damaged tooth to restore its shape, size, and strength, and to improve its appearance. It is cemented in place to fully encase the entire visible portion of the tooth both at and above the gum line.
6. Dental Bonding
This process uses a composite resin to mask imperfections, matching the material to the color of the patient's teeth. It is applied freehand by the dentist, who molds and shapes the resin to cover up imperfections without the translucent look of veneers. Dental bonding is ideal for minor repairs, rather than fixing a full smile.
7. Composites
Also known as white fillings, composites come in shades that will easily blend in with the color of your teeth, and can replace old metal fillings with a more natural option.
8. Dental Contouring
Small changes can make a big difference with this technique that removes small amounts of tooth enamel in order to alter the shape, length, or surface of one or more teeth. A sanding instrument is used to contour the surface of the teeth, then teeth are carefully smoothed and polished.
9. Cosmetic Gum Surgery
Your teeth aren't the only part of your mouth that can be spruced up. If you feel your smile is too "gummy" or that your gum line is uneven, cosmetic gum surgery –also known as gum contouring– is a process that sculpts your gums to better accent your smile.
10. Custom Dentures
A custom-made set of full or partial false teeth can be made for those who have lost multiple teeth and surrounding tissue. This is a removable option that doesn't feel quite like your original teeth did, but can give you flexibility when dealing with tooth loss.
You can easily correct minor–or major–imperfections in your smile with one or more of these common cosmetic dentistry procedures. Explore your dentist's before and after photos, talk to others who have experienced each process, and research the pros and cons of the different options. Your dentist can also answer any questions you may have while helping you determine the best choices for you.